GARAGE DOORS ARE OUR GAME
Professionally installed Garage doors are an outstanding complement to any home or office building in South Africa.
We currently boast the most extensive range available in South Africa to suit your preferences. Including Wooden, Aluminium, Aluzinc and our trademarked AbsoSteel doors.
We offer garage door installation, maintenance of our products, and repairs. 
Absolute Doors carries a no-nonsense 2-year guarantee on all of our garage doors and motors.
Why Absolute Doors is the Best Garage Door Company in South Africa:
5 Ways We add Absolute Value to Your Home:
1. Our Absosteel and Aluminium Doors are made from the highest-quality materials making them strong and durable. With a two-year no-nonsense guarantee, we put our money where our mouth is when it comes to trusting our products.
2. All quotes are customised based on your home and requirements. A dedicated salesperson will drive to your home for a quick inspection and provide an accurate quote free of charge (Rep visits in Pretoria and Johannesburg only*)
3. Our highly-trained team inspect all our garage doors. With over 30 years of experience in the field, they ensure that only the finest quality doors leave our factory.
4. Your safety is our highest priority, so we offer a six-month guarantee on all services for our doors and motors. You can count on us to fix problems that might suddenly arise.
5. Designed to be eye-catching, our garage doors look and feel extraordinary and are available at competitive prices.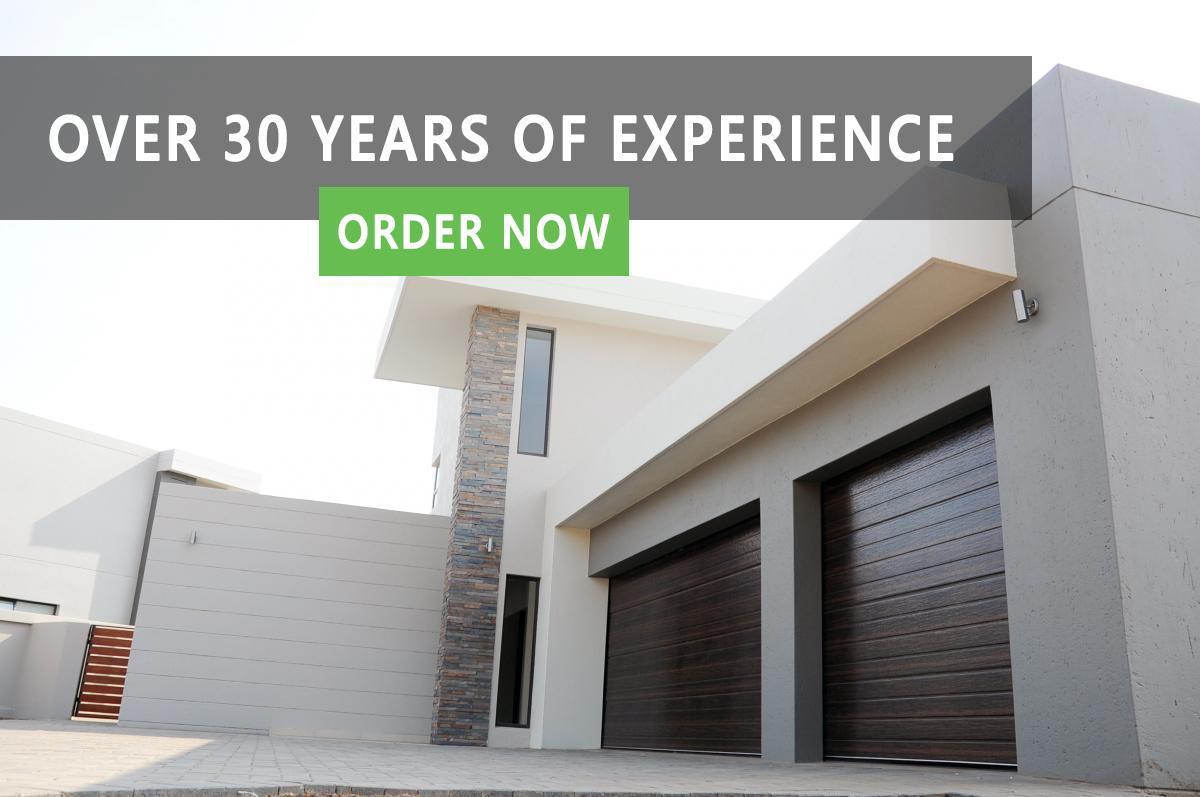 THE LARGEST RANGE OF GARAGE DOORS FOR SALE IN SOUTH AFRICA
At Absolute Doors, we take special care to protect our products and stand behind their quality. We have over 30 years of experience in the field and offer a 100% no-nonsense guarantee on our Absosteel and Aluminium garage doors, making us the leaders in our industry!
We have outlets in Gauteng, Limpopo, Mpumalanga, and Botswana. We provide high-quality all-in-one services, including installations, replacements and maintenances for your garage door without you having to lift a finger. 
We currently boast the most extensive range of garage doors in South Africa to suit your preferences. We strive to add Absolute Value to your home. 
Even if you are not an Absolute Doors customer, we can still assist you with most garage door repair services you may require. If your door is not operating smoothly, it's essential to get assistance to ensure your safety and the security of your home.
Absolute Doors recommends servicing your garage door every 12-18 months to ensure your door is working perfectly.
An automated garage door is no longer a luxury but a necessity from a security and convenience point of view. It is essential to ensure that the motor has a safety mechanism in case something or someone (like a child, a dog, or your car) is underneath a closing garage door. The motor automatically stops and reverses, preventing injury or damage to property.
We use our trademarked Absolift® motors, which have an optional battery backup.